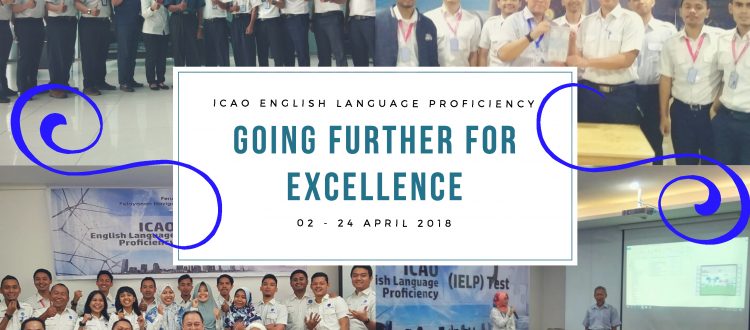 INDONESIAN AIR NAVIGATION (AIRNAV INDONESIA) AND JATC HAVE STRENGTHENED THEIR COLLABORATION FOR IELP.
INDONESIAN AIR NAVIGATION (AIRNAV INDONESIA) AND JATC HAVE STRENGTHENED THEIR COLLABORATION FOR IELP.
Jakarta Aviation Training Center's culture and mindset of "going further for excellence" are reflected in every aspect of our operations which have transformed all our learning programs into the most desirable programs with the highest quality standard.
One of our programs which provide the best possible experience for our clients is a Mobile IELP (ICAO English Language Proficiency) Rating Test for Indonesian Air Navigation community. It is a test program governed by the International Civil Aviation Organization based on its standard requirement to improve the English language communication of Aviation personnel in Indonesia to enhance the Aviation safety.
Unlike any other stressful test we put all our best effort to look at the creative ways to meet our client's need by implementing stress-free atmosphere while maintaining the ICAO standard procedures of rating test. Airnav Indonesia and JATC are focusing on results and long term goals where we believe that stress-free atmosphere will stimulate the participants in exploring further on their potential in English communication. As a result they are capable of producing appropriate English communication based on the ICAO rating scale.
In April 2018, we accommodated Airnavigation enthusiasts with a whole new way to experience Mobile IELP Stress-free Rating Test in eight different cities in Indonesia such as Bandung, Palembang, Semarang, Tarakan, Manado, Ambon, Pangkal Pinang, and Pontianak. Our unrelenting commitment to quality and clients' satisfactory experience was recognized by receiving positive feedback from Airnav Indonesia management.
Our rating team also worked closely with Indonesian Directorate General Civil Aviation and other Indonesian training centers, to ensure that our rating test performance is in line with the aviation regulation. We recognise that aside from providing the comfortable test atmosphere for our clients, we also have a responsibility to the broader community which is the safety of the aviation world.